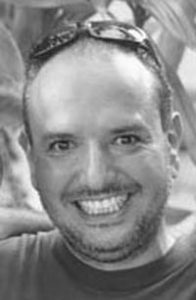 Armando is a versatile digital artist willing to manufacture your dream into color, depth and movement. VeryARTiculated.com offers digital illustration and animation generating graphic media content with the most current and flexible formats.
Armando is skilled in ADOBE Photoshop, Illustrator, HTML, CSS and CMS (WordPress). He also trained in perspective, drawing the human figure and the principles of chromatics, as well as different art techniques, such as watercolor, pastels, acrylic, and carbon drawing.
After 2 years of Majoring in "International Business" studies at the Tec. De Monterrey Campus Guadalajara, Armando Elizalde moved from Jalisco to Quintana Roo in 1995, to live in the Mexican Caribbean and work in the tourism industry as a cave diver, which he did for 17 years before retiring from the cave diving business and creating VeryARTiculated.com
Armando has traveled to around 13 countries and 3 continents, so he has been on both sides of the fence when it comes to tourism, as a service provider and a participant in local services. This gives him great perspective on marketing for tourism businesses.
Este Proyecto de libro tendra muchas anecdotas e historias de Jalisco y Mexico. Amigos y familia consideren apoyar este proyecto en Kickstarter RELATOS Y ANECDOTAS SOBRE UNA FAMILA ESPECIAL, por Sergio Hernandez Castillo